Welcome to your Inner Leading Man.
At Thomas Fortin you're joining the standout crowd with unique designs, bold colours and dapper British styling. All of our accessories are printed, woven and hand crafted in England and give bold accents and details to your sartorial wardrobe. In an ever-more casual world we want you to turn heads and be the best dressed in the room!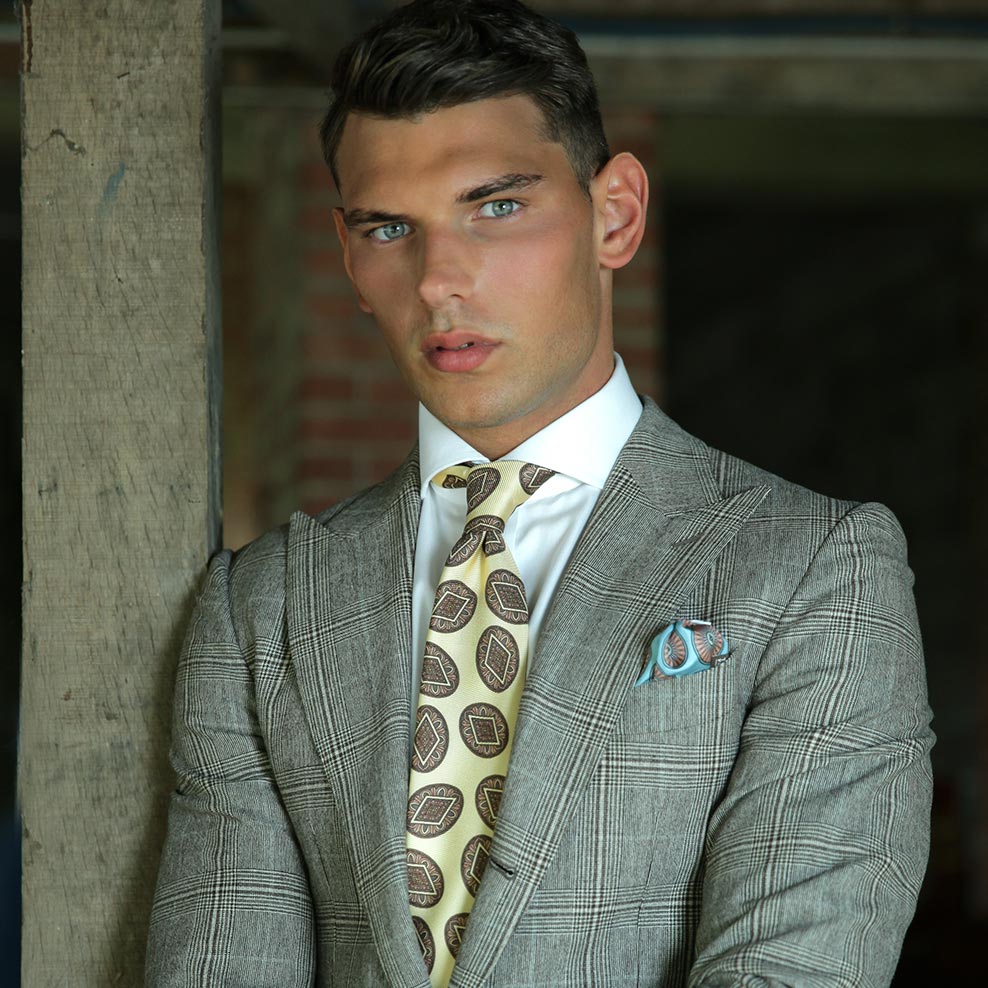 Fairbanks Lemon
Welcome to the Thomas Fortin Summer Collection 2021, Thomas has taken recollections of past summers and infused them into his brand new designs. Memories of holidays to small coastal Italian villages, tennis on the grass courts and punting down the river have all been part of the birth of this collecion.
Our Fairbanks Lemon tie is a beautiful printed silk twill tie part of the Thomas Fortin summer 2021 collection. This tie is printed in England on 100% silk twill with specially colored designs only seen at Thomas Fortin. This mini collection is a limted run so you know you have a rare addtion to your wardrobe.
The light yellow silk is accented with a random oval foulard pattern reminicsnt of an 1920's art deco seaside retreat. Thomas loves an English Summertime and nothing else recalls it like these lazy summer colors encapsulated in this modern classic tie.
Pair it with your favorite contrast collar shirt and braces for a timless look or dress it up with a light blue double breasted suit to be the talk of the town!
- 100% Printed English Silk
- Made in England
- Dry Clean
- 8cm wide
- 151cm long
£80.00 GBP
VIEW IN DETAIL
Matrimonial Ties
As the world opens up and weddings can once again go ahead we invite you to take a look at the Thomas Fortin range of ties. Many, such as the 'Boston' shown here lend themselves particularly well to the groom and groomsmen wardrobe.
SILK TIES
I didn't even realise the lack of a pocket square in my look at this time. Guess its never too late to up my game

@mega_cornelius
Incredible Boston Blue and Gold paisley tie from Thomas Fortin. Hard to tell from the photos, but it's really sheeny and iridescent

@suited_scot
great quality, great design, great tie...

@mr.tholama
It is not difficult to tell you how much I love this tie... Take a look , they are really exceptional

@one_day_one_Tie
The Major Importance of Minor Things
"Just as no serious writer undermines his prose by neglecting essential commas and dashes, no true elegante ignores the opportunity to better communicate his own style"*
Take a look through our range of silk pocket squares and find something to give you that styling edge.
*Alan Flusser
Pimp my Pocket
THOMAS LOVES TO BE SOCIAL
Stay up to date with all new Thomas Fortin products as they are added to the shop by following our social media links below